Check out this project!  We don't often have the opportunity to supply brick for vertical applications so we're excited about this one.  Jeff Patterson at Whitacre Greer's Iowa distributor, Glen Gery worked on this project.  His efforts resulted in the selection and specification of a Whitacre Greer dry-pressed modular solid brick for the construction of this market in Bondurant, Iowa.  Its a great looking project and a testament to the versatility of dry-pressed brick.  The three-color blend mingled at the plant according to the architect's specification includes shades 30 Clear Red, 32 Antique and 33 Dark Antique.  33 Dark Antique was used as an accent.
The project also features interior thin brick cut by Whitacre Greer.  The interior brick work matches the exterior.
Dry-pressed brick are produced with clays and shales having a moisture content of approximately 6%.  The nearly-dry material is pressed into steel molds under high pressure. Vacuum is sometimes used to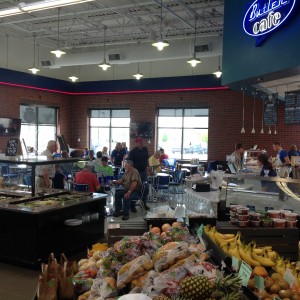 extract air from the molds making the brick more dense.  With less moisture, dry-pressed bricks will shrink less thus giving these products good dimensional stability.  The firing process is similar to that of extruded and molded bricks. The mixing process is generally done in batches that allows for easier mixing of different clays to produce color varieties.
Dry-pressed bricks have sharp edges and a clean, smooth face.