2016 Whitacre Greer Calendar with Historic Photos
Download the calendar as a PDF file by clicking here – WG Calendar Final
In 1916 the Whitacre Fireproofing Company merged with the Greer-Beatty Clay Company to become the
Whitacre-Greer Fireproofing Company. The President was R.E. Whitacre while his brother J.J. Whitacre served in the U.S. House of Representatives. When he left Congress in 1914 he stated "No man who wants to be intellectually honest has any business in congress."
Whitacre Fireproofing Company was incorporated in 1902. The company was started in response to the great Chicago fire of the 1871. The fire was so devastating that in the future all buildings were built using materials that were fire proof. The only reproof material available at that time was hollow clay tile. Whitacre Greer produced hollow tile in 5 plants until 1929.
After the depression and the demise of the hollow tile product Art Estep asked his friend,
who was in charge of the Timken melt shop, what we might make in our Waynesburg factory. The answer was clay hot tops. One hot top was required on top of every ingot mold filled with molten steel. Daily use of the hot tops was in the 100's in each mill. John B. Whitacre Sr. went to work on the problem, and after finding the right combination of raw materials, ended up with a suitable product. Whitacre Greer produced hot tops from 1939 to 1953.
JJ Whitacre's eldest son, John B. Whitacre Sr. served as President from 1938 to 1963. John Sr's son John B. Whitacre Jr. served as President from 1963 to 1979. Lynn Morrison served as President from 1979 to 2005.
After World War II the Magnolia plant was converted to face brick production. A monumental shortage of this product was created by the 5-year moratorium on building and house construction during the war. After this market fell back to normal levels, new and innovative products were required to maintain the sales level. Random bond length face brick and architectural paving brick were developed, and flashing for all architectural products became standard for Whitacre Greer. Whitacre Greer produced architectural face brick until the late 1980's.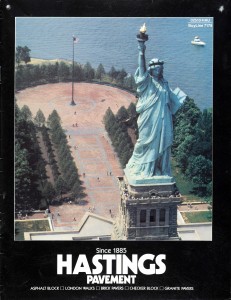 A long standing promotion and installation agreement with Hastings Pavement facilitated the use of WG pavers in many prominent places throughout the county in places like Pennsylvania Avenue from the White House to the Capital and Liberty Island in New York.
In the 1970's Whitacre Greer planned to move all production from the older periodic plants to more modern plants with tunnel kilns. The plan was to move all refractory brick production to the new Alliance plant, then move all the architectural product business to the Midvale plant. The Alliance plant began to make dry-pressed ladle brick and firebrick where production continues today.
Whitacre Greer today is owned by the fourth generation of the Whitacre family, with the fifth generation currently being educated for their future ownership role. Whitacre Greer today employs approximately 80 people.
During the early 1990's, the ladle brick business began to decline in a dramatic fashion as the customers required more sophisticated refractory products. Dry pressed pavers were born, continuing the tradition of innovative clay products.